Book Review: Bullies and Saints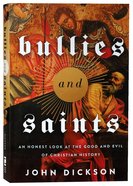 John Dickson, Zondervan Reflective
"Bullies and Saints" tackles the ticklish question of the role of the Christian faith throughout the last two millennia. The subtitle of the book is: "An honest look at the good and evil of Christian history." It tackles the accusation often made by atheists and others that the world would have been better off without the Christian faith. Which is a thought that has possibly crossed many of our minds. Religious wars, the Inquisition, and more recently the atrocious abuse of innocent children by clergy has all, understandably, fuelled the fire of antipathy towards the Christian faith.
Dickson, as a trained historian and theologian, carefully combs through the history of the church and sorts fact from fiction. With meticulous detail goes through many historical events. He openly acknowledges that which is evil, without excuse, but also highlights the many good things that Christianity has given to the world.
An interesting tack that he takes is that he also looks at "atheist" history and reveals the enormous atrocities perpetrated by unbelieving rulers such as Hitler, Stalin and Pol Pot, that causes any "Christian" barbarism to pale into the background. Dickson also clarifies inaccurate historical perceptions. For example in the historical imagination "The Inquisition" was one of the great historical evils. The fact is that over the 350 years of the Inquisition fewer than 5000 people died. Not that this is excusable but the truth is often vastly inflated. Fascinatingly, it was probably the Protestants and their propaganda against the Roman church that was largely responsible for this inaccuracy.
One of the refreshing aspects of this book is the way he looks at the doctrine of the "Imago Dei" – the image of God in humankind – and reveals how this has impacted our understanding of the value of life. This doctrine has, for example, been central to the development of charities, public hospitals, the anti-slavery movement from the early years of the church and in turn, has been incorporated into modern civilised societies.
His chapter on child abuse within the church is short but pointed and he acknowledges that this dark stain has caused a huge mistrust of the church which will take time and effort to redress. He shows clearly how this is a betrayal of Christ and the gospel.
In the final chapter he points us back to Jesus Christ and the importance that Christians follow him in faith and action. He also adds, ironically, how some atheists now acknowledge the importance of the Christian ethic for healthy society to function.
This is a valuable book as it enables us to put Christian history into perspective. It will assist Christians in honest discussions with non-Christian friends and colleagues. It also reminds people of faith that our motives  must always be guided by Christ and his word. Waver from that and all sorts of traps await.